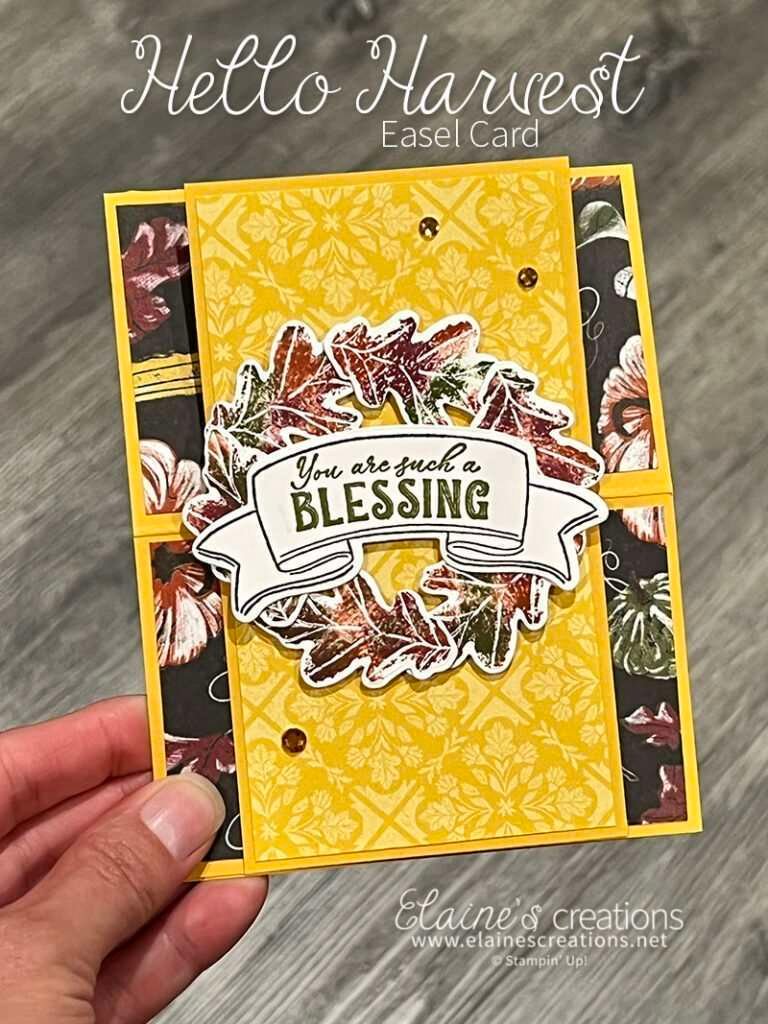 I also love making easel cards! This card was created with the Hello Harvest stamp set and Rustic Pumpkin Dies. I used the baby wipe technique for the leaves.
For the baby wipe technique, place a baby wipe folded in half in an empty Stampin' Up! stamp case. Place drops of Merry Merlot, Mossy Meadow, and Cajun Craze ink from the refills randomly around the baby wipe. And you've basically created your own multi-colored ink pad!
I made seven leaves. Six for the wreath and one for inside to hold the easel in place.
I masked the original sentiment in the banner and curved the other sentiment and stamped it inside the banner instead!
For the easel, I scored a 4-1/4″ x 11″ at 2-3/4″ and 5-1/2″. I added a 3″ x 5-1/2″ piece of Crushed Curry in the middle. Then I placed the six leaves in a circle and added the banner in the middle. I adhered the seventh leaf with a dimensional inside to hold the front of the card in place to form the easel. What do you think? Will you try making this easel card? I would love to see your card. Please post your card on my FB Page:
http://www.facebook.com/elainescreations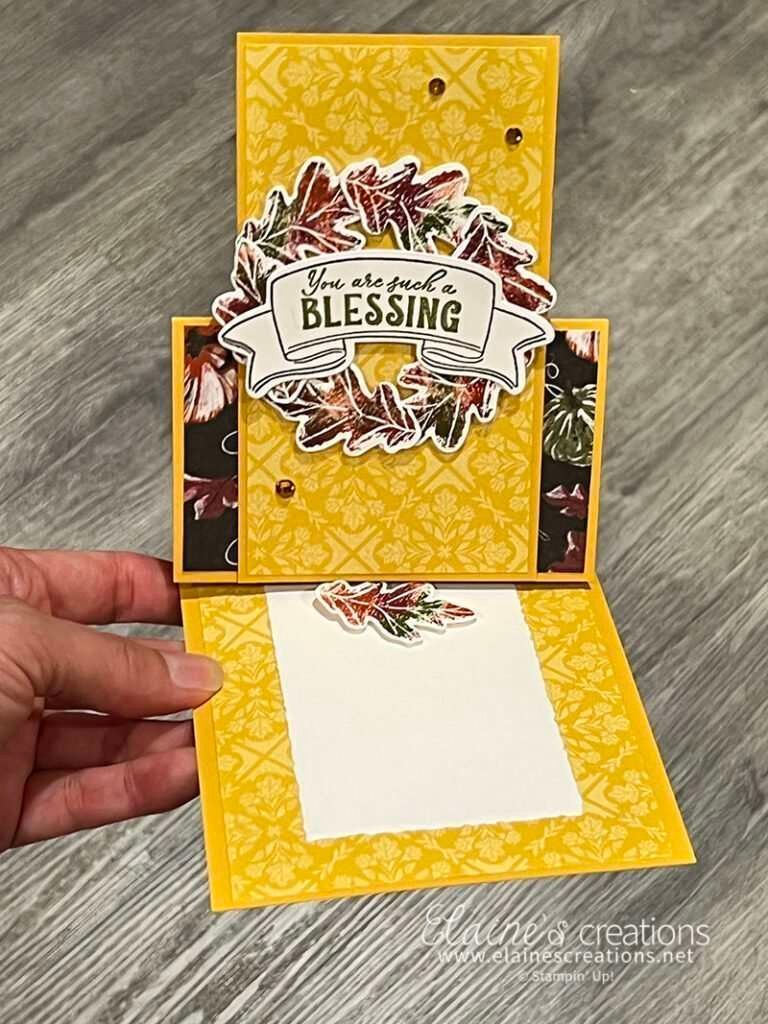 For the measurements and more details, check out my YouTube video tutorial where I show how to create this card!
How to Make an Easel Card Video Tutorial
Special offers
Get this card kit for free when you purchase the bundle or place a $50 order using my current host code (you can find at the top of the right sidebar on my homepage)! There are supplies for two of each card for a total of six cards in each card kit! Please email me and let me know you would like this card class! All classes are available to go!
And when you place a $50 order online using my current host code, you'll receive a free gift in the mail from me as part of my rewards program! You'll also receive my Exclusive Stamp Tutorials at the end of the month!
Please make sure you do not have "no contact" selected from previous orders or I will not be able to send your gift.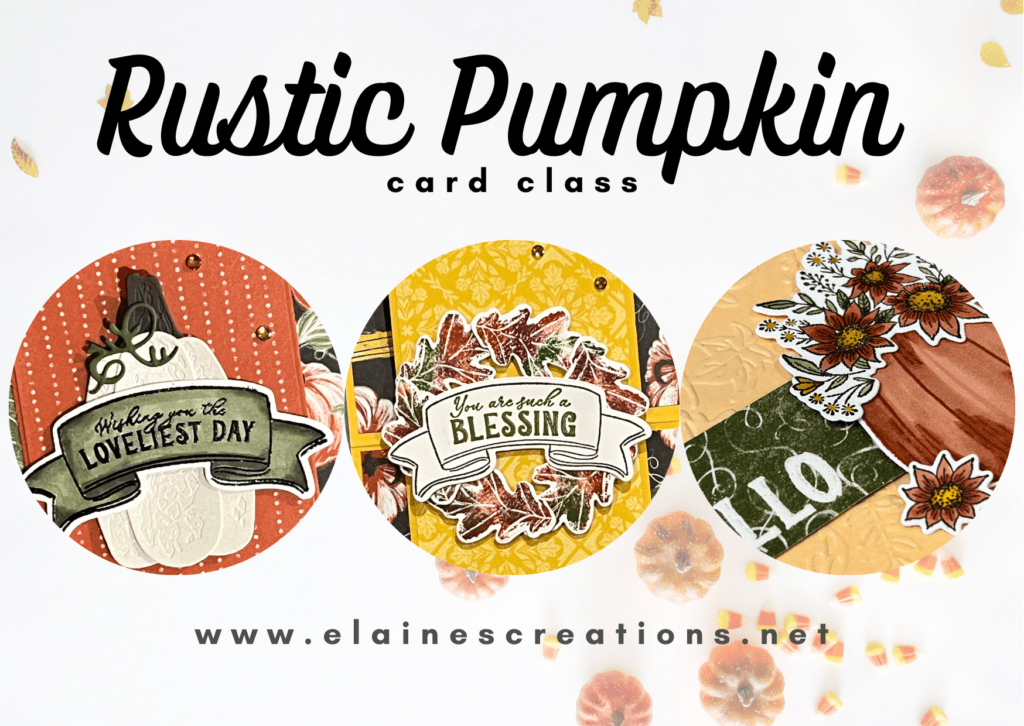 Here are all the links to products that I used to create this card!
---
October Paper Pumpkin Kit
Subscribe by Sept 10th to get this super fun Paper Pumpkin Kit!
Get your Halloween crafting on with the Spooky Treats Paper Pumpkin Kit. This month's kit includes everything you need to make 18 absolutley adorable (and just the right amount of spooky) treat boxes—that's 6 each of 3 unique designs! No need to let the season creep up on you; subscribe and order your kit today.
GIVEAWAY ALERT!
Plus, we're putting the TREAT in trick-or-treat with a special GIVEAWAY on social media starting 5 September at 9:00am (MT)! Simply follow @PaperPumpkin on Instagram or the Paper Pumpkin page on Facebook, like either post, and mention three friends in the comments for your chance to win one of two personalized JBL speakers. You'll have to be quick because the giveaway closes 8 September at 4:00pm (MT). Don't miss out on this fang-tastic opportunity!
NEW Sale-A-Bration Items!
These NEW Sale-A-Bration items are now available with every $50 or $100 purchase!
Host a Party
You can host an in-person or virtual party! Let's get together and enjoy stamping and card making together! Plus you can earn exclusive Host only items! Email me to talk more about having a party.
Join My Team
The best deal in the catalog has always been and will always be the starter kit! For $99, you receive $125 of your choice in Stampin' Up! product, a FREE Paper Pumpkin kit, FREE Shipping, and during Sale-A-Bration you'll receive this fabulous planner, three journals, stickers for decorating, and a stamp set that goes with it all!