Create a pop-up box card with the NEW Beautiful Balloons bundle in the Bright & Beautiful Suite from the NEW Catalog! This fun card is also a 2, 4, 6, 8 box (if you are familiar with it). Start with a 8-1/2″ x 5-1/2″ of card stock scored at 2″, 4″, 6″, and 8″. Turn clockwise and score at 2-1/4″. Trim off the top tab as shown in video (video's card stock size is incorrect) and use the bottom tab to adhere the box together.
Decorate the box with the fun Bright & Beautiful Designer Series Paper, a sentiment, and some stars and balloons. Create the little bars for the balloons to float from with a piece of 3″ x 1″ card stock. Score at 1/2″ from both ends. Cut in half lengthwise to 3″ x 1/2″. Put adhesive of both end tabs on opposite sides. Place one tab in a corner and then carefully fold the box flat to adhere the other side in place. Then adhere the second piece on the opposite corner in the same manner.
Watch the video tutorial below to see how I created this box card.
Beautiful Balloons Box Card Video Tutorial
Special offers – Free Card Kit, Rewards & Tutorials!
Get this card kit for just a $5 shipping fee when you place a $50 order using my current host code (you can find at the top of the right sidebar on my homepage). There are supplies for two of each card for a total of six cards in each card kit! Please email me and let me know you would like this card class! All classes are available to go!
And when you place a $50 order online using my current host code, you'll receive a free gift in the mail from me as part of my rewards program! You'll also receive my Exclusive Stamp Tutorials at the end of the month!
Please make sure you do not have "no contact" selected from previous orders or I will not be able to send your gift.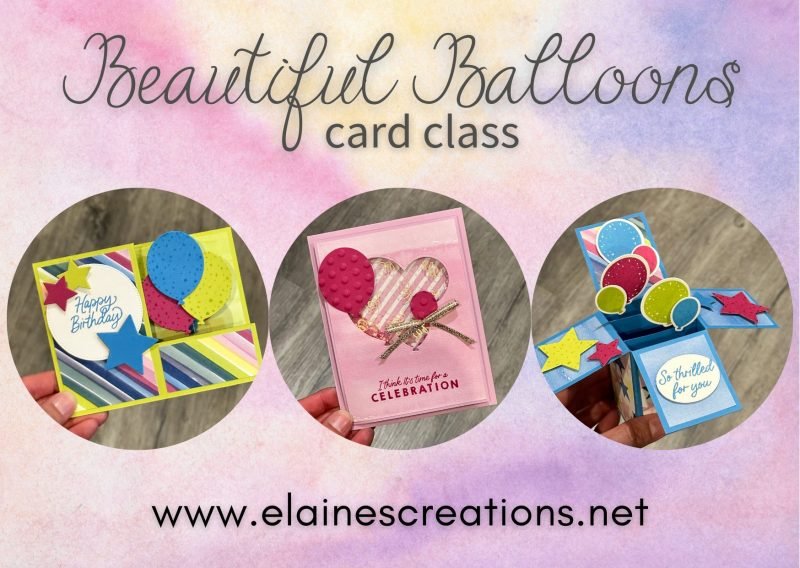 Here are all the links to products that I used to create this card!
---
The New Catalog is here!!
It's so exciting! The NEW Catalog is here filled with lots of fun new products! Click on the picture below to take a look!
---
Subscribe to the May Paper Pumpkin Kit!
Say hello to mountain landscapes and new In Colors! This month's kit features nine outdoors-themed cards in our new 2023–2025 In Colors plus exclusive FREE stickers. Want more? Get the cards & envelopes add-on (available 2 May while supplies last) and continue your creative adventure!