Create a bright and happy birthday card with the Darling Details bundle! Starry Sky, Melon mambo, and Parakeet Party are a great color combination for almost any card! I used the largest frame die with a 4″ x 5-1/4″ piece of Starry Sky card stock and a 3-3/4″ x 5″ piece of Vellum Basics to put underneath for a cute patterned background for the flowers. I started with the large Melon Mambo flower and then added the other Starry Sky flowers and Parakeet Party leaves around the large flower. Then I added the Happy Birthday sentiment to finish his bright and colorful card! What do you think of this color combination? Leave your thoughts in the comments!
Watch the video tutorial below to see how I created this card.
Colorful Darling Details Card Video Tutorial
Special offers – Free Card Kit, Rewards & Tutorials!
Get this card kit for just a $5 shipping fee when you place a $50 order using my current host code (you can find at the top of the right sidebar on my homepage). There are supplies for two of each card for a total of six cards in each card kit! Please email me and let me know you would like this card class! All classes are available to go!
And when you place a $50 order online using my current host code, you'll receive a free gift in the mail from me as part of my rewards program! You'll also receive my Exclusive Stamp Tutorials at the end of the month!
Please make sure you do not have "no contact" selected from previous orders or I will not be able to send your gift.
Here are all the links to products that I used to create this card!
---
Bonus Days Are Here!
We're bringing back one of our favorite promotions—BONUS DAYS! Because do you know what's a great deal? Getting rewarded for all the crafting supplies you're already going to buy! When you shop between 6–31 July and spend $50 USD you will earn a $5 USD coupon! Make sure you save all your coupons because you can redeem them (and we mean ALL of them) between 1–31 August.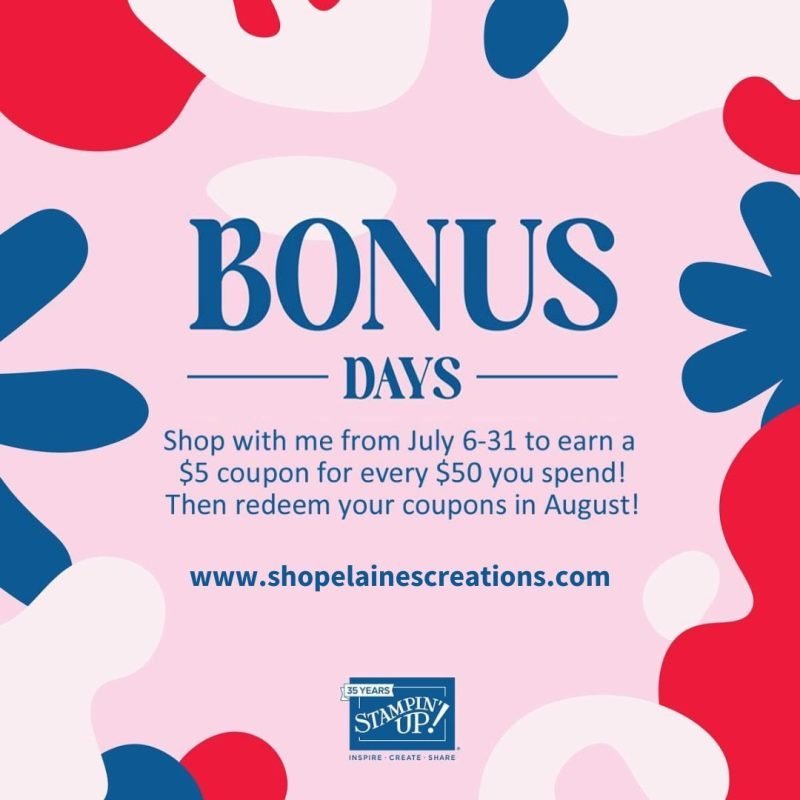 NEW Online Exclusives!
Starting July 6th, Stampin' Up! will offer fresh, never-before-seen products to spark your creativity and expand your collection! Here are just a few of the items that will be offered: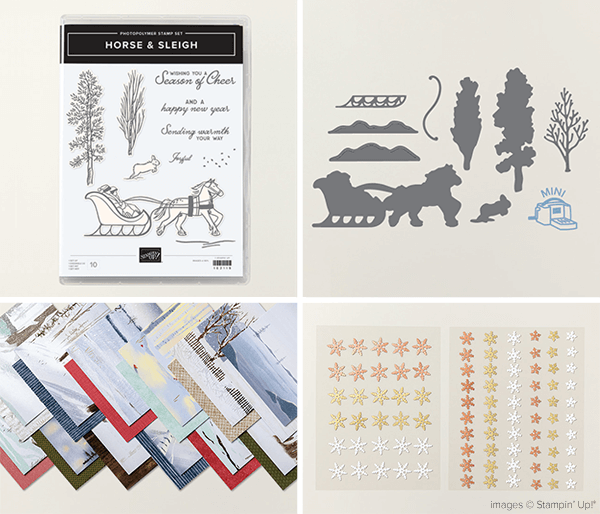 ---
Subscribe to the August Paper Pumpkin Kit!
Subscribe by August 10th!
Discover messages of friendship and loyalty in the flowers from the August Paper Pumpkin Kit! This kit includes 8 cards, 4 each of 2 designs, and 8 coordinating envelopes. The kit is special because of the way it uses the meaning of flowers. On each card, you'll find a small inscription of what the flowers represent. As you craft with the included vellum and watercolor paper pieces, you'll know you're sending a message of encouragement and loyalty to your recipients.
And don't wait, because anyone who subscribes to this month's kit will get a FREE stamp set! This Distinktive stamp set is perfect for a variety of occasions!

THIS MONTH'S KIT INCLUDES:
8 cards; 4 each of 2 designs
8 coordinating envelopes
1 Pretty Peacock Stampin' Spot
1 photopolymer stamp set
Precut paper pieces of watercolor designs
Enough adhesive to complete the project